Defend Your Home, Support Your Comic Shop – ONCE OUR LAND Review
Once Our Land
Created by Peter Ricq
Published by Scout Comics
During the era of Covid-19 stay-at-home orders, one of the things I miss most is my weekly trip to the comic book store. Yes, there are other sources for comics, but what I like most about my comic shop is that it's a local small business. Over the years I've made friends with the owner and employees, and I miss chatting with them every week. Like many small businesses that have been forced to temporarily close, comic book stores are struggling to make ends meet. Things may be looking up to an extent, but comic book stores still need our help. Stay-at-home orders begin to expire next week, but it's likely that comic shops won't be high on the list of businesses that are allowed to fully reopen right away. Plus, Diamond doesn't plan to begin shipping new product until mid to late May. Then once shops reopen, chances are good they might not see a lot of traffic at first as people wait to see if it's truly safe to resume normal life. Luckily, there are many ways to support your local comic book store without leaving your home.
Many small publishers are sharing the profits made from online sales of their products with local comic book stores. A few weeks ago I purchased SARA from TKO Studios. In the weeks that followed, I saved up my money and last Friday purchased books from Bookshop.org and Black Mask Studios. I also bought Once Our Land from Scout Comics. Scout is offering a multitude of titles, and giving half of the total sale to the comic shop of the buyer's choice. All you have to do is enter your local shop's name in the "special instructions" bar. Their site's orange background makes it a little hard to see, but the special instructions bar is on the page after you click check-out but before you reach the page where you enter your name and shipping address.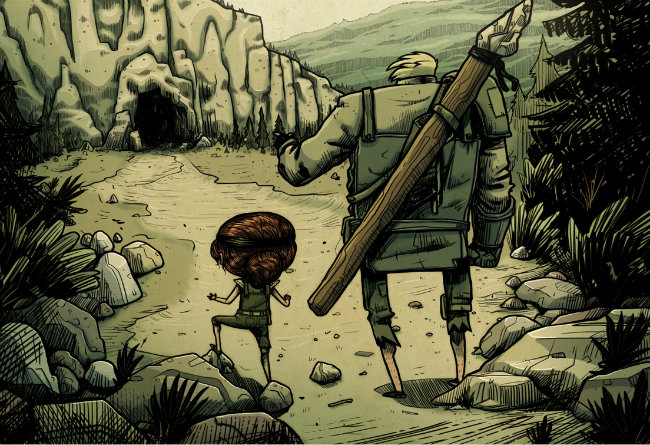 Before choosing Once Our Land, I looked through Scout's catalog but didn't recognize any of the titles. Knowing that I planned to buy two other books from other publishers, and having an idea of the titles I wanted to buy from those publishers, I took a different tactic while pursuing Scout's website. I filtered the available comics by price, and decided to choose the cheapest trade paperback. The first one I came across was Once Our Land. Right off the bat, the premise intrigued me. After having read the comic, I can say with all honesty that I would have happily paid twice as much.
Once Our Land is a post-apocalyptic period piece set in an 1830's Germany that has been invaded by monsters. The story follows Ingrid and Fritz, the sole survivors in the town of Mainz, as they fight to survive and carve out a life for themselves in a harsh new world. Fritz is the grizzled, veteran warrior one expects to appear in post-apocalyptic tales but Ingrid is an eleven year old girl. The two form a fast friendship as they work together to fight the invading monsters. The narrative contains action, humor, creepy moments, and a whole lot of heart. This is very much an all ages comic and is sure to become a fast favorite of young and old readers alike. The edition I purchased has been remastered and contains a bonus section of character sketches and behind-the-scenes extras.
I always enjoy coming across a modern comic book written, illustrated, and colored by the same person. In Once Our Land, creator Peter Ricq shows that he's a master of all three. The art is amazingly detailed. The page layouts contain a lot of small panels, yet it's always clear to tell what is occurring in those panels. The story is reminiscent of "The Little Prince" or "Alice in Wonderland" except it's no dream, the monsters are real and running wild in our world. This concept is beautifully illustrated. Ricq simultaneously captures the desolation caused by the monsters and the childhood innocence of Ingrid. The monsters' designs seem simple at first but grow in complexity as the story unfolds.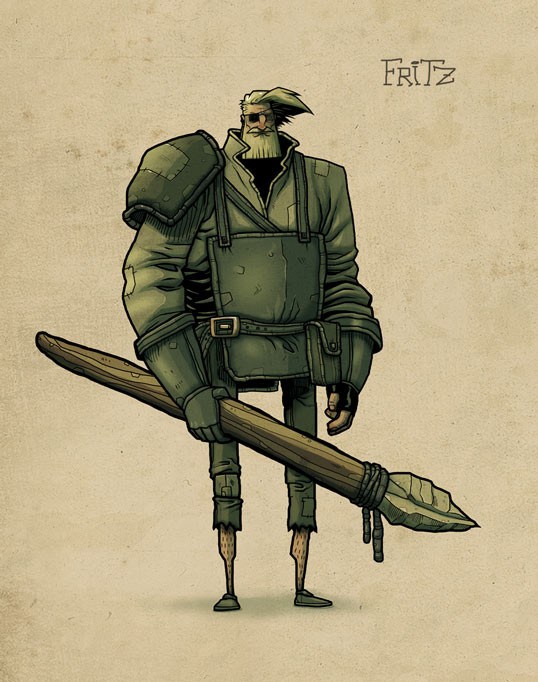 I'm so happy that I ordered Once Our Land from Scout Comics. I got the shipping confirmation hours after finalizing my purchase and by book arrived in less than a week. Not only did I get the trade paperback I expected, but Scout threw in a back-and-boarded first issue of Stabbity Bunny. But it's not a normal first issue, it's a variant cover and #34 out of 100 signed by the author. This made me feel as appreciated as a customer as I feel appreciative toward Scout for their support of local comic book stores. The second volume of Once Our Land is available for purchase as well. Take it from me, you should just go ahead and buy them both. You'll want to jump into the next part of the story as soon as you finish the first volume. A great book, a free signed comic, and the opportunity to benefit my local comic shop. Buying from Scout Comics was the definition of a win-win scenario. Check out their selection and lend a hand to your favorite comic book store.
Writing: 5 / 5
Art: 5 / 5
Overall: 5 / 5