What He Could Play. What He Could Imagine - Chasin' The Bird Review
Chasin' The Bird: Charlie Parker in California
Written, Drawn, and Lettered by Dave Chisolm
Colored by Peter Markowski
Forward by Kareem Abdul-Jabbar
Published by Z2 Comics
Bebop. It's not just a character from Teenage Mutant Ninja Turtles. It's a style of Jazz music characterized by fast tempos, virtuosic technique, and advanced harmonies. It's a style that Charlie "Bird" Parker helped develop during the mid-1940s. Over the course of his short life, Charlie Parker would revolutionize Jazz with his masterful playing of the alto saxophone and his introduction of new techniques and harmonies to the genre. Charlie Parker spent two years in Los Angeles. During that time, he forever left his mark on both the city and Jazz music. His years spent in L.A. are chronicled in Chasin' The Bird: Charlie Parker in California, a new graphic novel from Z2 Comics. Written and illustrated by Dave Chisholm, this graphic novel is an outstanding tribute to the Jazz legend.
Charlie Parker's time in Los Angeles begins with his band playing at Billy Berg's Jazz Club. After the gig, his bandmates return home, but Charlie remains in L.A. Over the next two years, Parker enters the lives of many influential people, who for various reasons of their own, are also drawn to L.A.'s Jazz scene. Each chapter of the story is narrated by a different individual who knew Charlie Parker during his stint in Los Angeles. This includes fellow musicians Dizzy Gillespie and John Coltrane, artist Jirayr Zorthian, photographer William Claxton, producer Ross Russell, and sculpture artist Julie Macdonald. In each chapter the reader gets to see Parker's impact on the lives of these newfound friends and the impact they had on his own life. Although his music is the main focus of the graphic novel, the story also examines Charlie Parker's struggle with drug addiction and racial segregation. Chisolm presents a full portrait of Parker, exploring his inspirations, vices, successes, and flaws.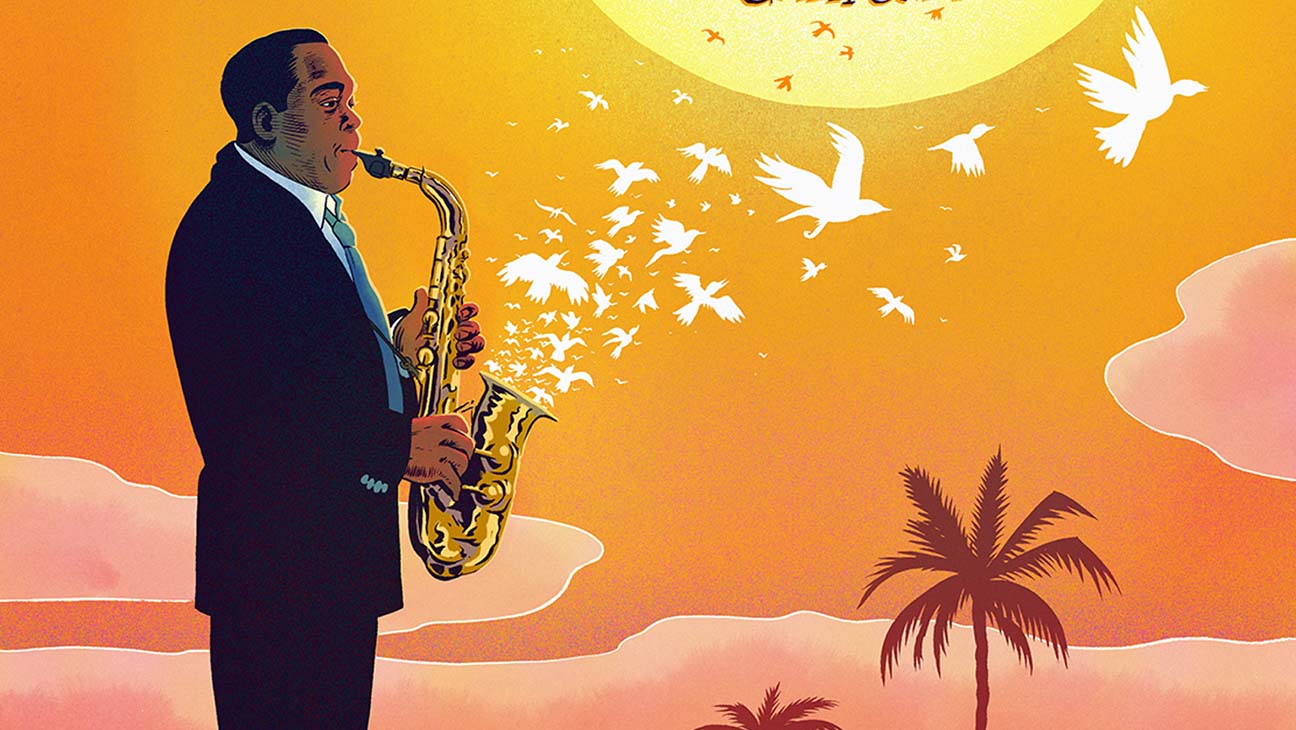 In my opinion, one indicator of a good biography is that it inspires the reader to do additional research. Chisolm paints a full picture of Charlie Parker, but I found myself just as intrigued by the narrators. This isn't a bad thing, but as I was reading this graphic novel, I kept pausing to research the narrators to get a fuller picture of their own lives. These new perspectives on the narrators led to me to have a more complete understanding of Charlie Parker. My increased understanding of who each narrator was also added context that made the already engrossing narrative that much more captivating.

Chisolm employs a narrative device that I found very interesting. Nearly every chapter concludes and then the next chapter begins from the same setting. Namely, one of Parker's performances at Billy Berg's Jazz Club. This decision on the author's part ties each chapter together and keeps them from devolving into unconnected flashbacks. This creative choice also ensures that Parker's musical talent never strays too far from the center of the overall story. Throughout the book the reader learns that there was much more to Parker than just his music, but Chisolm never lets us forget that performance was a central component to his character. Parker's musical talent is not only what drew each narrator to him, it also helps keep the reader invested in the story.

As entrancing as the story of Charlie Parker's time in L.A. is, the artwork is the true stand out of this book. Chisolm draws with an impressive amount of detail. His use of shading and shadow gives the images a realistic look. The music Charlie plays is represented by connected blocks of different sizes. Markowski uses bright, almost neon colors, to fill in these blocks of sound. This makes them pop from the page, allowing the reader to experience the music with their eyes in the same way they'd experience it with their ears while listening to a performance. In the same way the musical notes are shown, Parker's darker side is visually represented by a shadowy monster. These two artistic devices aren't included solely for creative purposes, they also help communicate the tone of each scene. They complement the events of the story and add weight to the dialogue.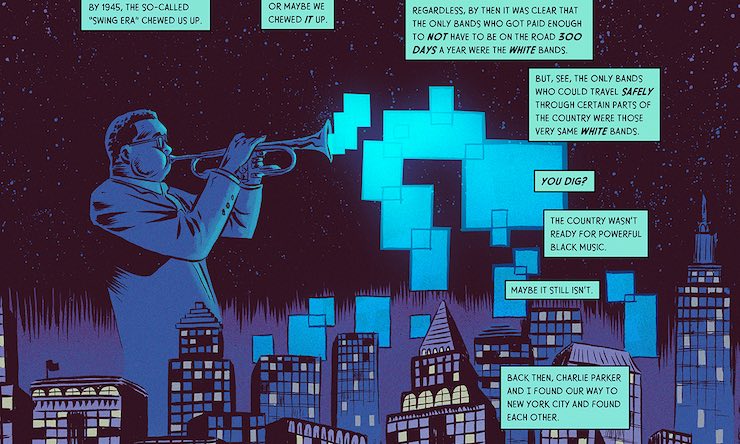 Throughout the book Chisolm gets to show off his artistic chops. As the chapters switch to a new narrator's perspective, Chisolm slightly shifts his art style, and Markowski adjusts the coloring to match it. The style used for each chapter seems to directly reflect the point of view of the narrator. The style used in the first chapter makes the reader think of Jazz clubs and urban nightlife. In the second chapter Chisolm seems to pay homage to Zorthian's unique style, drawing the characters with strong chins and pronounced brows. The third chapter resembles a classic newspaper comic strip. This is possibly a nod to a photographer's ability to capture a moment in time. Claxton's memories of Parker are like snapshots from a bygone era, colored by time. From there the styles continue to change to fit the narrator's memories which keeps the book visually interesting and surprising. It all culminates in a stunning and symbolic final performance in which both the artwork and Charlie Parker himself truly shine.

It is only by putting together the various pieces of who Charlie Parker was that we can truly understand the full extent of his legend. This is exactly what Chisolm accomplishes as he ties together the elements of Parker's identity beyond just being a Jazz musician. Chasin' The Bird: Charlie Parker in California is available for pre-order and will be released in September. The standard edition includes an exclusive flexi disc with an unreleased Charlie Parker single. Or upgrade to the deluxe limited edition to receive a vinyl 45 with two previously unreleased Charlie Parker recordings.
Writing: 5 / 5
Art: 5 / 5
OVERALL: 5 / 5