I've Seen The Future, and It's Queer – The Dreams of Queer Utopia Review
I've Seen The Future, and It's Queer
The Dreams of Queer Utopia
14 short comics written by various queer creators
Editor: H-P Lehkonen
Published by DigiComix Oy


Fiction writers love to speculate on dystopian futures. Although there are a few examples, utopias are rarely imagined and written about. I think that speaks to the state of our world, or at least our view of it. It's much easier to imagine things getting worse instead of better. That ideal doesn't hold true for the creators whose stories are featured in The Dreams of Queer Utopia. This collection of web-comics imagines futures where queer people are universally accepted and safe. Many of the comics also express dreams of society embracing nature or dreams of society uniting to combat climate change. These are noble dreams; dreams I hope we can all one day accomplish together. As work continues toward making these dreams into reality, hopefully these web comics inspire all of us to do better and be better.

One unique thing about these web comics is that each creator gives a short introduction on the page that proceeds their contribution to the collection. These pages include the creator's social media information, so if a comic speaks to the reader, they can easily follow the creator and support them further. Each of the fourteen comics in this collection offer a short slice of life narrative. Some are cute, some are hopeful, and some are even informative. I'd never heard of Solarpunk before reading this comic and was inspired to do my own research to learn more about this method of environmental sustainability.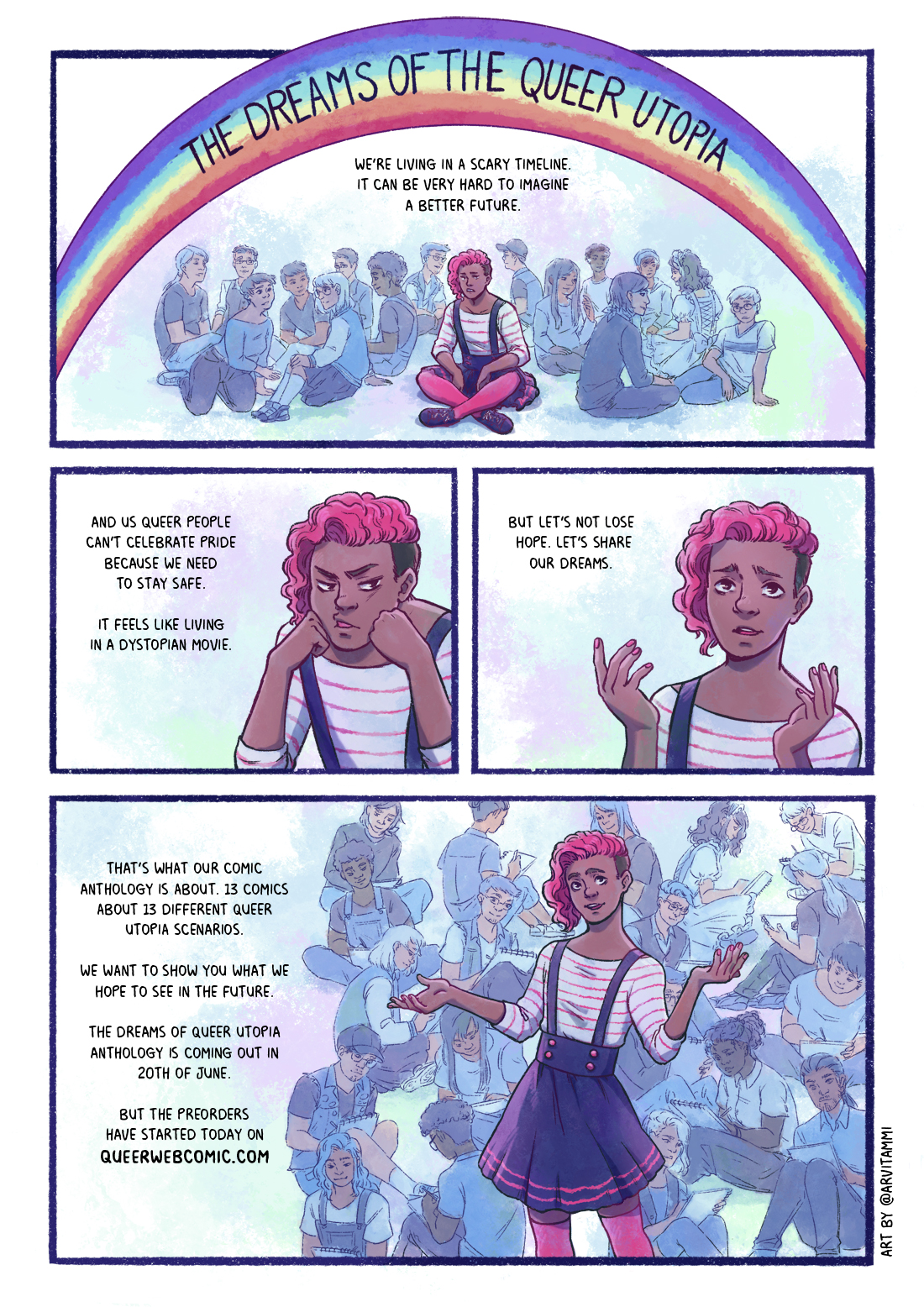 Each comic has its own speculative fiction focus. Some imagine a world similar to ours, where the views and negative actions toward queer people have changed for the better. Others have more of a science-fiction theme. Just like their themes and settings, each comic is drawn in a different style. The entire gamut of comic illustration styles is on display in this collection. Many look like the traditional paneled comics found in newspapers. Others are practically works of art. I really enjoyed the comics that were like graphic pamphlets designed to both tell a story and relay their message of positivity and inclusion.

The comics collected in The Dreams of Queer Utopia posit that it's time to address climate change, and it's time to change our society's social and political climates. If you enjoy The Dreams of Queer Utopia, be sure to check out the site's other web comics featuring LGBTQIA+ characters and produced by queer creators.

Writing: 5 / 5
Art: 4 / 5
OVERALL: 4.5 / 5