CHEAT(ER) CODE - Advance Review
CHEAT(ER) CODE
Written by S.A. Foxe
Illustrated and Colored by Daz
Letters by Harry Otterman
Published by Limerence Press, Inc. (An Imprint of Oni-Lion Forge Publishing LLC)
If the idea of two men having sex repulses you, we can't be friends. Also, you definitely should not read this graphic novel. The book opens with a graphic, three-page depiction of two men getting it on, and there are more sex scenes scattered throughout the story. I knew CHEAT(ER) CODE was an erotic graphic novel, but I was surprised by how elaborate and detailed the sex scenes were. When I think of the term 'erotic' my mind goes to sensual petting, partial nudity, and that quote from Superbad, "They don't really show dick going in, which is a huge concern." The sex scenes in this original graphic novel from writer S.A. Foxe are full on pornographic, but in the most tasteful and often touchingly beautiful way possible.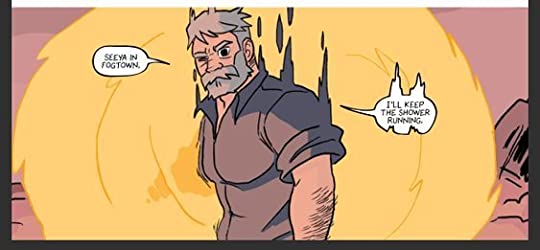 With his relationship seemingly over, and his longtime boyfriend having just walked out, Ken seeks solace in masturbation and video games. Through a freak occurrence, Ken winds up getting sucked into the worlds of some of his favorite video games. Regardless of sexual orientation, we can all relate to the emotional turmoil of a bad break up. Foxe does a tremendous job capturing these feelings with his script and the dialogue within. In fact, all of the dialogue is natural and believable. There's also quite a bit of humor throughout the story, especially for those of us who enjoy a good innuendo. The method by which Ken winds up pulled into the video game world is really creative and perfectly fits the themes of the graphic novel. I really enjoyed seeing spoofs of fan favorite video games. I won't spoil them here, but the locations within the video game worlds will be recognizable to long time gamers.
The layout of each page is variable, giving artist Daz the freedom and flexibility to do a lot of visual storytelling. Each page uses a mixture of smaller and wider panels to convey the events or emotions of each scene. The differing brightness of the colors are adjusted to match the tone of each spoofed video game. I do wish Daz drew the characters' expressions in a little more depth. His style is a bit reminiscent of Disney animation, which brought up some weird feelings and hilarious mental images as I read through this graphic novel. This illustration style worked great for the scenes set in video games, but not so much for the intense one-on-one conversations between the characters, especially when those conversations occurred in the real world. Perhaps it was just the advance digital copy I was reading, but the characters' proportions seemed slightly off at times. Though this only seemed to be the case when the characters were wearing clothes. During the erotic scenes, everything was drawn to correct proportions.
Apart from bigots and prudes, CHEAT(ER) CODE is a graphic novel everyone should read. Foxe gives the reader interesting characters with defining characteristics beyond their sexuality. Through Ken's experiences, Foxe explores situations to which we can all relate. Plus, how often does one get to see realistic sex scenes in an American comic book? I identify as straight, but even I was turned on by a few of the sex scenes. The reason being, the characters come across as real and the emotions they are experiencing feel even more real. CHEAT(ER) CODE is expected to release on November 24th. I highly suggest you pre-order a copy today.
Writing: 5 / 5
Art: 4.5 / 5
OVERALL: 4.8 / 5